Want to live smarter? Get a gadget or 2. These products might help, 15 gadgets that will prevent everyday problems and make your life easier.
Ever think about how many little household problems you simply put up with? You know the ones I'm talking about—things like setting off the smoke detector when you're just cooking or never being able to find the TV remote. You (read: I) could probably solve these issues by changing day-to-day habits, but I like making seared tuna, even if it smokes up the kitchen. Plus, I'm nowhere near diligent enough to put the remote in the same place every time. It's just who I am.
There are tons of these little issues you might run into around the house, and I'm here to tell you that there's an easy solution: smart technology. Today's smart gadgets can solve so many common problems, from forgetting to close the garage door to cleaning the grimy area under the couch. Here are a few of our favorites.
1. A smart smoke detector for the kitchen
Next time you sear tuna or burn popcorn, you'll be glad you have a handy little gadget called the Nest Protect smart smoke detector in your kitchen. The Nest Protect won the best overall category in our 2019 roundup of the best smart smoke and carbon monoxide detectors. If there is enough smoke to trigger the emergency alarm, you can quickly silence it from your smartphone via the Nest app—no chair climbing or towel waving required. Instead of a single alarm tone, the Nest Protect speaks in a clear voice to alert you about smoke, fire, or an abundance of carbon monoxide in an area of your home. Keep in mind that the National Fire Protection Association recommends placing your smoke alarm at least 10 feet from your oven, stove, or other cooking appliance to avoid any false alarms.
2. A smart lock so you can ditch your keys
I've got more keys than I'd like on my keychain and that takes up quite a bit of valuable space in my tote bag. Investing in a good smart lock can not only reduce the size of your growing keychain but it also offers an unmatched level of modern convenience. Lock your keys in the house? No problem. Forget your house keys at the office? No biggie. With this smart gadget you can unlock your door with a digital keypad or by using apps like Schlage Home or Key by Amazon. After testing a number of smart locks, our smart home team found the Schlage Encode to be the best WiFi deadbolt. If you have a babysitter or dog walker that comes by with any regularity, you'll appreciate that this gadget can remember up to 100 permanent, temporary, or recurring passcodes. Sayonara, bulky keyset.
3. A connected smart plug for your bathroom accessories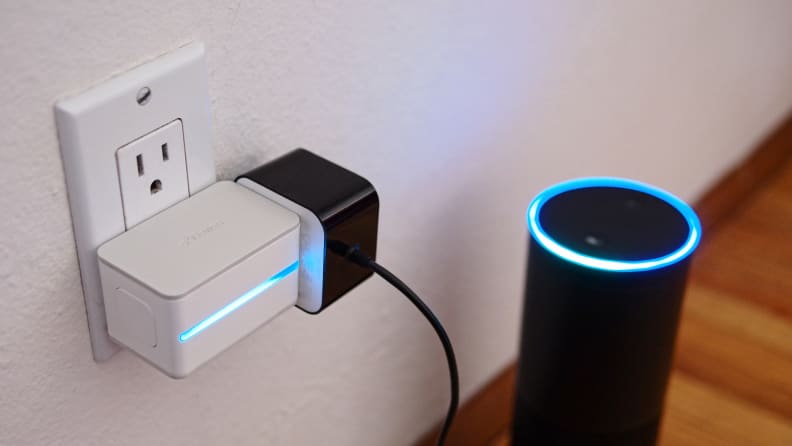 How many times have you forgotten to turn off your hair straightener or curler? Not only does this use up electricity all day, but it's also a fire hazard. The simple solution? Get an iDevices Switch (our top choice for smart plugs) and create a schedule so it turns off your bathroom accessories when you leave the house. You'll save energy and get peace of mind with this useful gadget.
You might also be interested in reading about the Atmos Clean Air Purifier